Why volleyball — not basketball — is winning the popular vote By Vicki L. Friedman | Feb 15, 2017 Special to espnW
Basketball figured to be the game for Micaya White. Her dad, Randy White, played in the NBA. Her brother, R.J., is the starting center for UNC Greensboro. Micaya joined her first team when she was 6.
"Everybody assumed I was going to play too," the 6-foot-1 White said.
There was just one problem. She didn't love it.
"When I tried to show aggression, I'd end up hurting another player or fouling out of the game." More than that, White cringed, "I hated being touched. I'm a germ freak, so a sweaty person touching me freaked me out."
A conversation with the volleyball coach at her middle school opened up an avenue she never considered. Urged to try out for the school's team, White hesitated.
"I didn't want to suck at it, and I knew nothing about it," she said.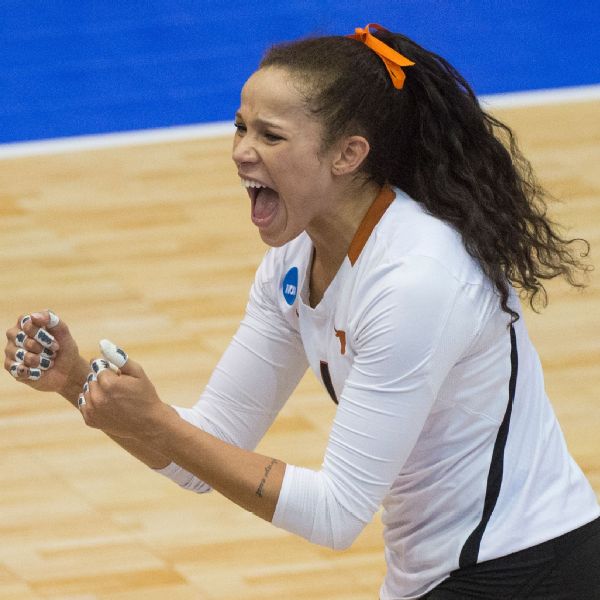 But within a week, White fell in love with the game in which the block party never ends. Volleyball fired up her competitive juices just as much as basketball, if not more.
"Only there was a net in between," she said. "You can put in all this aggression toward one object and let it out."
Basketball's loss became volleyball's gain. White was the Big 12 Freshman of the Year at Texas, which reached the NCAA title game in December.
Her decision to pick volleyball over basketball follows a national trend. Two years ago, for the first time, more high school girls played volleyball (432,176) than basketball (429,504), according to the National Federation of State High School Associations. In 2015-16, volleyball added another 4,133 girls to those numbers, while basketball lost 276 participants.
Examine the past decade, and the numbers are more striking. Statistics compiled by the NFHS show an increase of more than 40,000 volleyball players in that span and a decrease of 23,000 basketball players.
"There's been a huge African-American crossover into our sport, and it's become the social norm now to play volleyball, whereas 10 or 15 years ago, it was basketball," Texas coach Jerritt Elliott said. "It appeals not just to the super tall but the super small. The super small has a niche with the libero and the [defensive specialist] position where they can find success at a very high level."
Volleyball, which had its national semifinals showcased on ESPN in December, has evolved way past the days of a picnic pastime.
"There's a whole lot of girls out there who like to be powerful, who like to be strong and assertive and aggressive, but they also like having a net between them," said Kathy DeBoer, executive director of the American Volleyball Coaches Association. "They don't enjoy checking each other or boxing each other out or slide tackles."
Mike Flynn, editor of the national recruiting newsletter Blue Star Report and a longtime authority on girls' basketball, points to all the choices girls have today and the challenges specific to basketball.
"You go where you see success and where you have access to success," he said. "Basketball is a hard sport to master. Unless you're willing to put in the time and effort and have a certain level of athleticism and hand-eye skills, you will not be successful. You will be pushed out of the sport because of what it demands. In volleyball and lacrosse, those barriers are lower."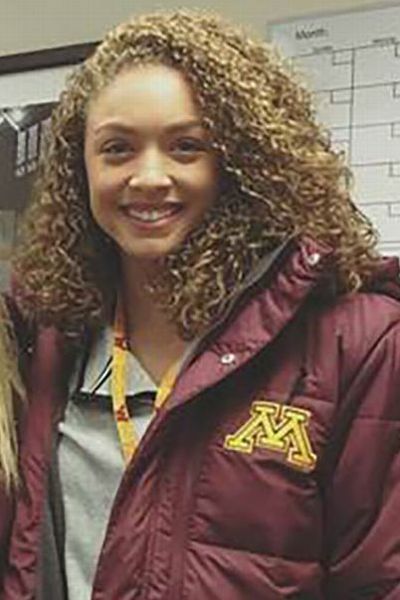 Jasmyn Martin set aside basketball recruiting letters from Tennessee in favor of a stack of mail from volleyball coaches. Martin, who graduated from Hopkins High in Minnetonka, Minnesota, a semester early to train with the Gophers this spring, prefers the energy of volleyball to hoops.
"The relationships you build, how together you are, set it apart from basketball," she said. "You come together after every point."
Hayley McCorkle, who finished her career on North Carolina's volleyball team last fall, was born two hours away from basketball-crazed Tobacco Road. Once rated a three-star recruit by espnW HoopGurlz, she chose volleyball over hoops.
"I wanted to compete against someone, but I didn't want that physical contact," she said. "Volleyball allows you to be a little more of a girl. You get to wear the ribbons, wear pink, wear your hair however you want and still be dainty when you play the sport. That draws a lot of young athletes to the sport."
Washington's Kara Bajema was one of many volleyball players who echoed that sentiment. The 6-foot-2 freshman middle blocker twice earned state MVP honors after leading Lynden Christian High, about two hours north of the Huskies' campus, to a pair of championships in basketball. But she gravitated toward her other love, volleyball, and committed to Washington at the end of her sophomore year.
"Honestly, I just like the volleyball environment better. It's a little more chill," she said. "Basketball is definitely more hard-core, and I like being a girly girl sometimes."
But Bajema encourages girls not to decide on one sport too early.
"Play as many sports as you can in high school, and have fun with them," she said. "Some people feel the pressure to choose so early. I would encourage people to play as many sports as they can in high school."
Although it's rare, not everyone makes a choice, even in college.
There's a whole lot of girls out there who like to be powerful, who like to be strong and assertive and aggressive, but they also like having a net between them.
That's the case with Abby Cole, who played volleyball for four years at Michigan and joined the basketball team for the first time this winter. Cole said both sports offer a unique set of challenges but complement each other.
"I would never say basketball's more of a masculine sport than volleyball. You're not playing men's basketball; you're playing women's basketball," she said. "The bows and the hair and the way the uniforms fit don't affect the way the sport is played. Playing volleyball, you're not told to play like a lady. You're told to play tough and play hard and be aggressive. Whether it's basketball or volleyball, you hear the same things from coaches."
Likewise, Kathryn Plummer, a key freshman in Stanford's run to the 2016 NCAA volleyball championship, was drawn to its versatility.
"For some girls, the bows and uniforms matter when they're younger, but at the higher levels, you don't necessarily want to wear spandex," she said. "You might wear sweats when you're practicing. At the higher level, athletes are athletes. It's all about the sport."
At 6-foot-6, Plummer would be a godsend to Tara VanDerveer, whose Cardinal basketball team lacks significant size. Plummer played basketball as a youngster but decided against pursuing it in high school.
"I love basketball — to watch," she said. "I love to play volleyball. In basketball, I could post up and score. In volleyball, you have to be good at everything. You have to work together more. [In basketball, you can own the court. It can be your show. For volleyball, you need everybody."
Bryon Larson, whose Dynasty Volleyball Club in Kansas City, Kansas, is one of the most elite in the nation, points out that the skill sets for the two sports are similar.
"We're competing for the same athlete: lean, long, fast-twitch kids," he said. "That's the dream prototype player."
A decade ago, volleyball youth programs were scarce. Larson started his club in 2009 as a feeder system for the high school team he was coaching. Eight years later, the club fields 25 teams.
"We can't field enough teams," he said. "I could add six or seven more, but for me, it's a matter of trying to be Macy's — not Walmart."
When Troy Tanner started Tstreet Volleyball Club a decade ago in Irvine, California, it was largely due to his daughter Bailey's interest in the sport. Now he has expanded to a second location in Laguna Beach. He runs programs for tots, tweens and teens, and the words "Tstreet Club" are found on many NCAA volleyball bios. That includes the University of Washington's roster, on which Bailey plays alongside Tstreet alums Crissy Jones and Tia Scambray.
Tanner attributes much of the sport's success to the simple fact that volleyball is fun, and college opportunities are plentiful. The NCAA recognizes 334 volleyball teams; beach volleyball, fully sanctioned in 2015-16, is the NCAA's fastest-growing sport.
Added exposure has come with the Big Ten, SEC and Pac-12 networks.
"I have a little cousin who watched the tournament," McCorkle said. "She didn't know anything about volleyball until she saw it on TV. Having it out there for more young girls to watch allows them to be more drawn into the game."
High-performance training can be expensive — elite volleyball players can spend upward of $7,000 annually. But that's an amount plenty of parents with means fork over to see their daughters achieve.
As healthy as volleyball numbers are, DeBoer offers a cautious optimism.
"I don't want girls' or women's basketball to fail because that would be horrible for women's sports," she said. "Us becoming the top team sport was a combination of growth in volleyball and contraction in girls' basketball. When the sport that is your bell cow — and basketball is our football — when participation decreases, that is cause for concern."
In volleyball hotbeds such as Texas and California, the growth continues, but where volleyball is the top sport by 15 to 20 percent, including in Nebraska, Iowa and Michigan, "we're starting to see a decline," DeBoer said.
In basketball, I could post up and score. In volleyball, you have to be good at everything. You have to work together more.
Part of that is due to budget cuts and merging school systems. The boom in what she calls "pay-to-play" youth volleyball makes it less and less likely that a girl with minimal experience will be able to play at her high school.
"And that's what happened in basketball," she said.
Later this year, Flynn plans to introduce a new version of basketball — a seven-on-seven game with a focus on participation and development — at the club level to entice more young girls.
"Players quit when they don't play," he said. "We're going to change the game with this."
Predicting how the numbers will evolve is among those murky areas that keep DeBoer awake at night. But volleyball club coaches aren't overly concerned, nor are the girls who continue to discover the sport's appeal.
Redan High School (Georgia) freshman Takaira Flemons discovered the game at a summer camp at Georgia State. Her high school coach wanted her to try out; now she's working toward a volleyball scholarship.
"Volleyball is a game of the mind," the 5-foot-11 Flemons said. "It takes strategy. It's not easy, but it's not hard. I don't like basketball. Basketball seems like the same thing every time. I don't like to stand under the goal. I don't like running at all. It's the same repetitive thing. In volleyball, it's something new, every set, every game."